This guide will help you understand the lead generation websites that are available for your business, and make informed decisions on where to spend your marketing dollars.
Within this guide, you'll find general guidelines for using lead service websites, as well as specific tips and resources for many of the popular lead services.
If you have experience with any of these websites or services, leave a comment below and help others make an informed decision!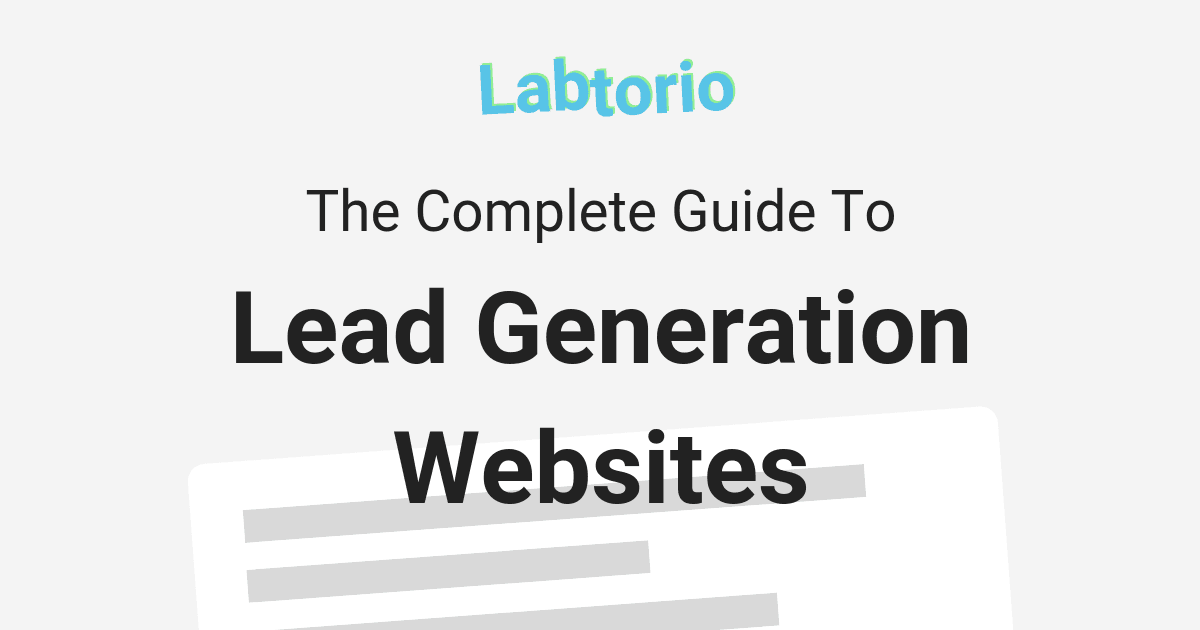 While no lead generation service is quite the same, there are some common-sense guidelines that apply to most of the services on this list. Keep these in mind as you consider lead websites for your marketing plan.
In almost every case, you're competing against multiple businesses for your leads. Most customers go with the first business who calls them back. That means you need to be waiting by the phone, ready to pounce. If you're not able or willing to be reactive, your conversion rates will be abysmal.
Many lead gen websites provide the option to ask customers for reviews. Whichever service you're using, make sure you get positive reviews with that service. In most cases, your chances of converting a lead into a customer can be greatly improved with a good number of positive reviews.
Don't rely on your lead provider to report your leads for you. Keep track of your leads and report any unqualified leads based on the rules of your lead service. If you're looking for a way to track your Key Performance Indicators, get our free KPI Tracker spreadsheet at HomeServiceTools.com.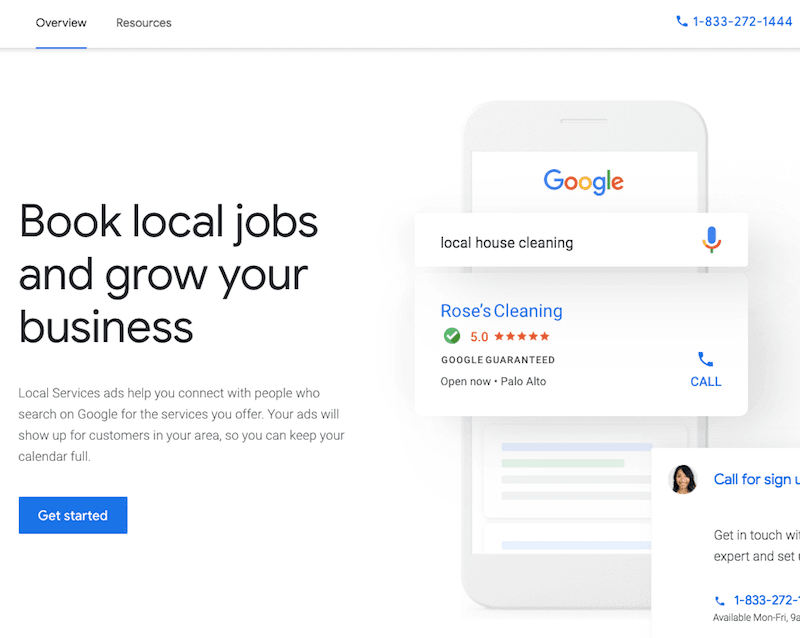 The newbie in the Top 3, Google Local Services arrived on the scene in late 2017, but it's been carving a mean chunk out of the lead gen industry.
What makes them different
Google Local Services requires you to pass their tests in order to get their "Google Guaranteed" badge. This includes background checks for every service tech.
Local Services Ads are charged on a per lead basis. The cost of each lead varies, depending on your location and industry. Generally, you can expect leads to cost between $19-$41 per exclusive lead.
If you decide not to continue advertising with Local Services Ads, your listing won't go away. Instead, the Google Guaranteed badge will be removed and you'll end up below the paid listings.
Get reviews. Some local SEO experts believe that Google values recent reviews more than total reviews. Keep those reviews coming.
Answer every call. One of the ranking signals for your LSA is how responsive you are to the leads you get. For this reason, it's crucial to keep up on the leads and answer the phone when it rings.
Keep calls brief. Google determines whether or not a lead is active (aka legit) based on the length of your initial call. They haven't shared a specific time frame, but keep this in mind and cut it short if you know it's not going anywhere.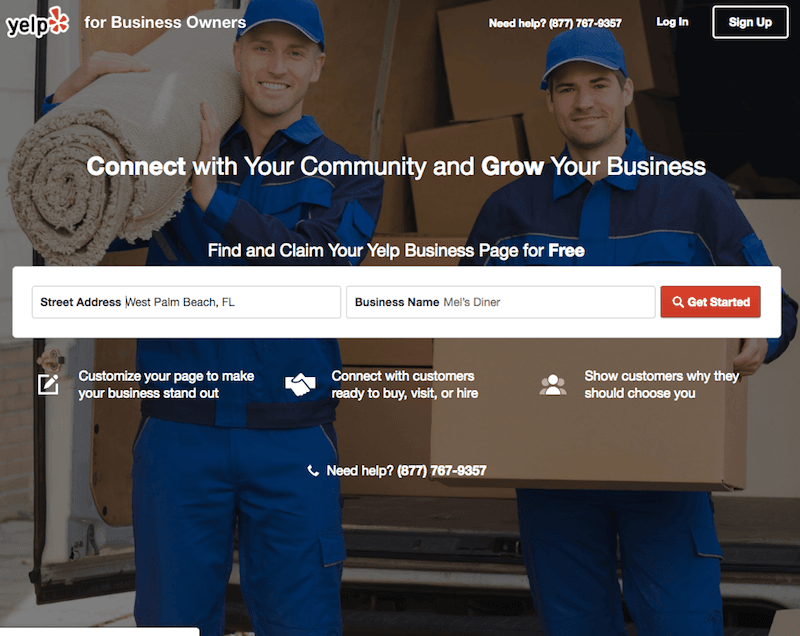 Yelp is one of the monsters in the lead generation space. They're a polarizing presence, with some loyal fans and a lot of unhappy customers.
What makes them different
Yelp provides one of the most valuable free listings available. In fact, it's recommended to set up your free profile, whether or not you plan to pay for leads. Many businesses report significant amounts of leads coming from their free listings.
On the other hand, Yelp's strong-arm cold calling tactics have earned them a terrible reputation in the home service industry. Businesses who sign up for long-term contracts feel cheated and trapped, and many find it difficult to convert leads into customers.
Yelp's Cost Per Click (CPC) ads are based on auction. Your costs will vary depending on the supply of leads, and the demand from competitors in your market.
If you sign a contract, you're paying what's called Cost Per Thousand (CPM), and it's not a good rate (see the links in More information).
Yelp also offers a variety of add-on services that will not directly net you leads. Some of these will allow you to remove competitors' ads from your listing, advertise on competitors' free listings, add a call-to-action button to your listing. It's difficult to measure the value of these services.
Don't sign any contracts. This is the biggest mistake small businesses make. Yelp has an entire team dedicated to calling their users and trying to get them into contracts. They are very, very persistent. But you don't get anything in a contract that you can't get with self-serve ads.
Use Cost-Per-Click Ads. These allow you to track your cost per acquisition more accurately.
Turn down the upsells. Yelp's sales team will try to sell you everything under the sun, but you should only pay for services whose value can be measured.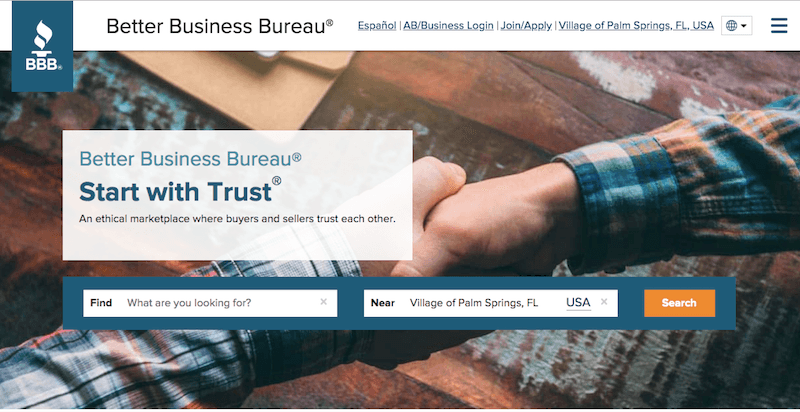 One of the oldest businesses in this space, the Better Business Bureau (or BBB) was founded in 1912. Originally organized with the mission of advancing marketplace trust, in 2008 the organization shifted from a "satifactory" or "unsatisfactory" rating system to a school-style A – F grading system.
What makes them different
Unlike most other sites in this list, the BBB does not charge for leads or contacts through their site.
The BBB is perceived to have a good reputation with some older demographics. When discussing whether to pay for accreditation, this assumption is often brought up, although we were unable to find data to back this up.
For small businesses, the BBB has a less pleasant reputation as a company which penalizes businesses for not upgrading to their paid accreditation.
The BBB charges annual fees based on the number of employees, and does not sell leads directly. Membership fees are set by the local BBB chapter, and can range from a few hundred to ten thousand dollars per year.
Know your market. While BBB is reported to have a high trust factor among an older demographic, it's important to do your own research to find out whether you will benefit from paid accreditation.
Showcase your accreditation. The BBB's website is not designed for lead generation, so to make the most of your accreditation you should showcase it wherever possible. Mention it on your website, emblazon it on your vehicles, and announce it in your advertising.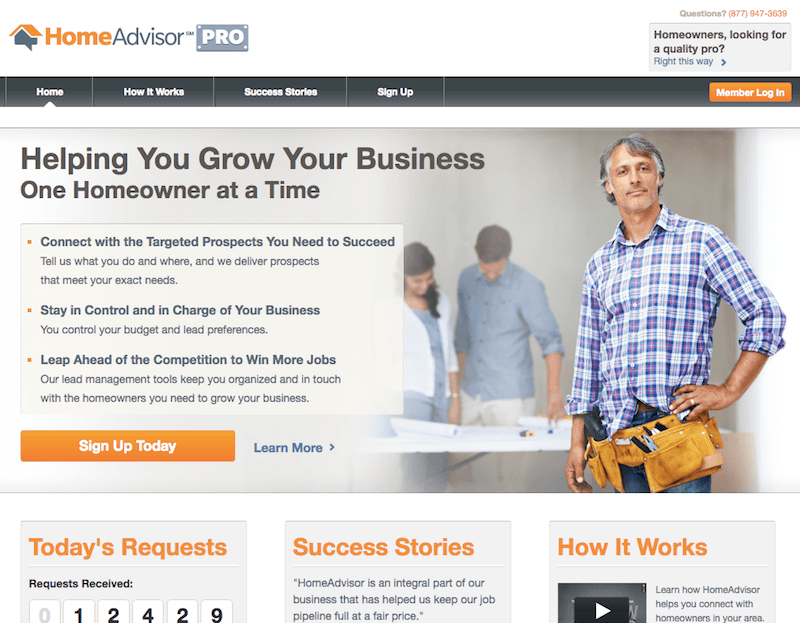 Already a dominant force, Home Advisor acquired Angie's List in 2017 to become the largest lead generation player in the home service industry. (Angie's List still functions separately, and has its own section below.)
What makes them different
HomeAdvisor provides a free listing option. While it's unlikely that you'll receive significant amounts of free leads from this, it may be worthwhile to set up the free listing.
Keep in mind that by creating a listing – free or paid – you are agreeing to HomeAdvisor's Terms, which gives them permission to use your business name and potentially outrank your website for search terms. Some businesses report that HomeAdvisor even created directory listings in their name and then sold those leads to other businesses.
Some HomeAdvisor Pro customers report receiving duplicate leads through HomeAdvisor and Angie's List.
Some business owners report receiving "leads" who are unaware of any contact with HomeAdvisor. While it is possible to get refunds for unqualified leads, the process can be challenging and leaves many business owners feeling scammed.
HomeAdvisor's leads are based on auction. Your costs will vary depending on the supply of leads, and the demand from competitors in your market. Users report paying between $15 – $60 per lead.
When you sign up for HomeAdvisor Pro, you will be provided a 1-month free trial of mHelpDesk, a sister company. This free trial will automatically convert into a paid subscription after 1 month if you do not cancel it.
Respond immediately. Since HomeAdvisor's leads are shared between multiple companies, the best way to turn leads into work is to respond right away.
Price competitively. HomeAdvisor leads are pre-conditioned to look for the lowest price. If you're going to join the competition, know that you'll be competing with other companies, and price accordingly. You don't need to be the cheapest, but you'll be more likely to convert leads if you're in the mid-range.
Manage your online presence. Make sure your business information is correct in all of the major directories, and claim any listings you find that are incorrect.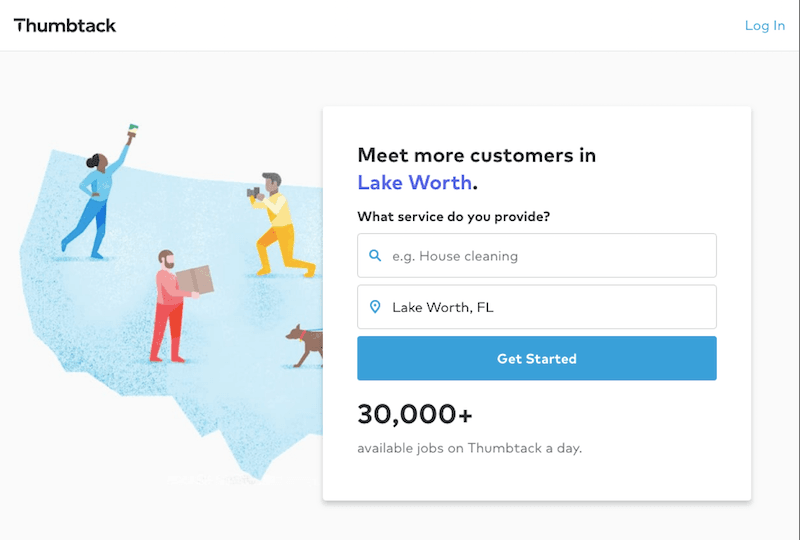 A relative newcomer to the on-demand services space, Thumbtack was founded in 2009. The website connects consumers with service providers across 1000+ categories.
What makes them different
Unlike some of the services we've reviewed, Thumbtack is entirely a lead generation service. Signup is free, and you're only charged per lead.
Thumbtack provides consumers with a place to shop for service providers. The website shows personable photos, age of business, reviews, and estimated prices, so that customers can quickly make a decision about who to contact.
Thumbtack charges on a "cost per introduction" model. This means you only pay when a customer decides to contact you or respond to your quote. Prices vary based on the type of project. Advertisers report paying between $8 – $60 per lead.
Be selective about what jobs you bid. When you first get started, you'll be taking any job that fits your skill set. Once you've completed 40-50 jobs, go back and calculate your cost per lead and revenue per job across the different categories. Once you've found the best categories, start pruning your list to only service the ones that make you money.
Complete your profile – including reviews. Leads are more likely to contact and hire you if they know who you are and what others think of you. Adding a nice headshot, filling out your profile info, and getting some reviews are all great ways to increase your chances of winning over new customers.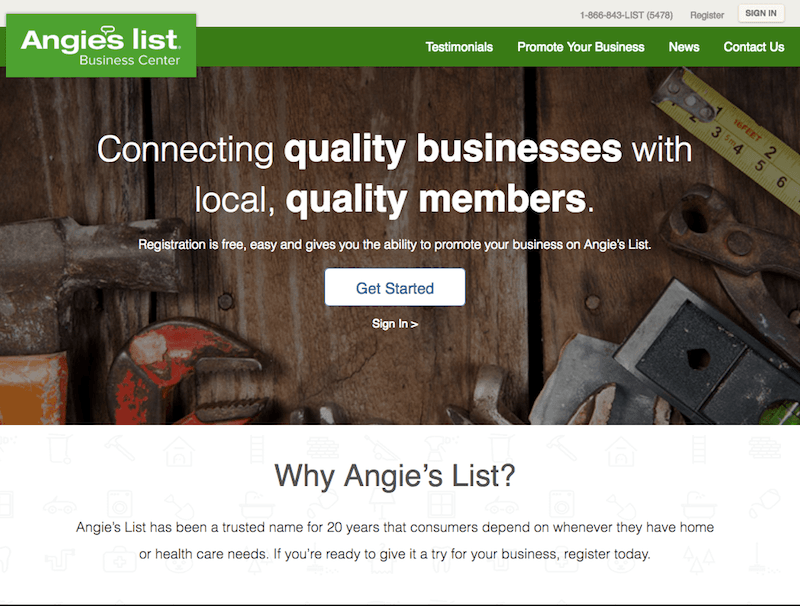 Named after co-founder Angie Hicks, Angie's List started in 1995 as a paid membership website for homeowners. It wasn't until 2016 that the platform opened up free memberships. While HomeAdvisor acquired Angie's List in 2017, the two websites have continued to function independently.
What makes them different
Angie's List gives a Super Service Award for their top contractors and home service pros. These awards can help to build confidence with new customers, and are often displayed on vans and websites.
The Angie's List Big Deal is their version of a Groupon, where advertisers can sell volume discounts.
Angie's List also publishes a print magazine, which is sent to members every other month.
If you're a business with expert knowledge, you may qualify to participate in their Expert Contributor Program and have your guest posts published on their blog.
Advertisers report paying between $4 – $8 CPC (cost per click).
Don't accept their first offer. As with most lead generation companies, Angie's List relies on aggressive call centers to sign up new customers. Don't let their high-pressure tactics trick you into spending more than you need to. Ask questions about activity in your service area. Negotiate to get a better rate. Don't be afraid to walk away if it's not making sense.
Showcase your awards. Whether it's the Super Service Award or another badge that's made available to you, make sure your customers can see it on your signage, vehicles, and advertising.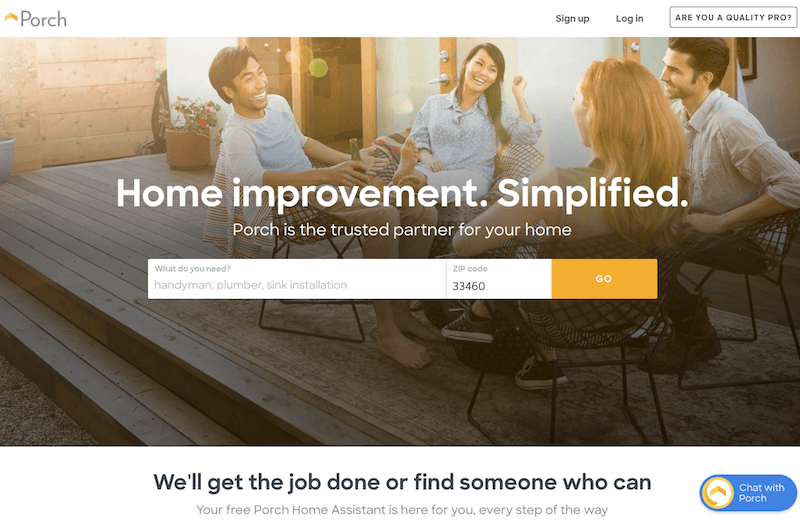 Porch is one of the newer lead service websites, getting its start in 2012. Porch has developed a reputation for being a more selective about sourcing leads.
What makes them different
Porch has been strong at developing partnerships with home goods and improvement retailers, including Lowes, Pottery Barn, and Wayfair. These partnerships bring in leads that are missed by other lead services.
Porch also has a partnership with Facebook Marketplace to connect home service leads with pros.
Porch allows up to 4 contractors to purchase the same lead.
For their Pay As You Go leads, Porch charges between $5 – $65 per shared lead.
The Porch Subscription service sets a monthly spend amount, which is exhausted as leads are accepted.
Respond immediately. As with any shared lead service, you're paying to join a race. Contact the customer before your competition, and you're more likely to get the job.
Get refunds for any inactive leads. Unlike some other services, Porch allows you to request a refund if you receive an inactive lead.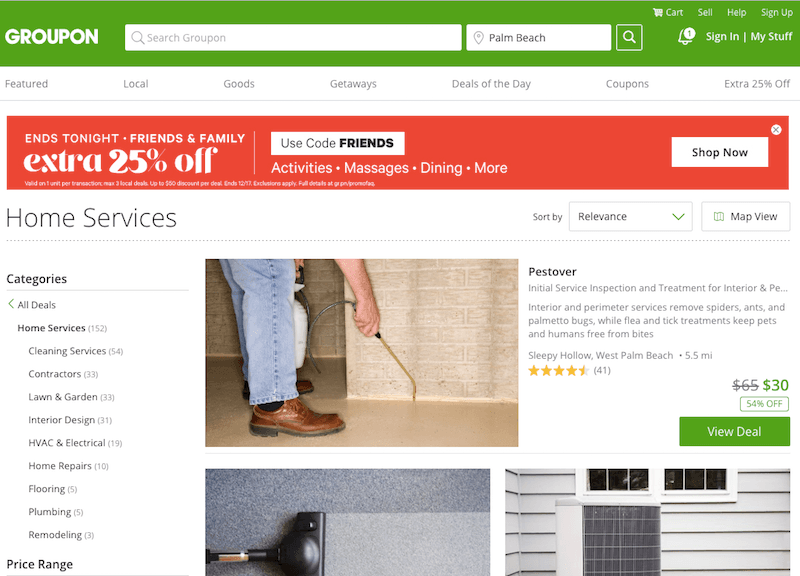 While Groupon isn't exclusively for contractors and home service pros, they do have a home service category. While Groupon's potential for drastically increased revenue can be appealing, it's one of the hardest lead services to be successful in.
What makes them different
If you've every used Groupon, you'll know that it's completely different than most lead services.
If you haven't used Groupon, here's how it works:
A business owner (you) submits a deal to Groupon.
Groupon promotes that deal to its members.
If enough members sign up, the deal goes through and you're on the hook for a bunch of work at a discounted rate.
Groupon requires a discount offer, and takes 50% of revenue as their cut. You get 50% of the discounted price, minus credit card fees.
Example: you normally sell dryer duct cleaning for $150, and Groupon's steep discount strategy  brings that down to $80. Groupon then takes $40, which leaves you with around $36 in revenue after credit card fees.
Know your numbers. Groupon's offering is very different from other lead services or marketing tactics. Make sure you understand all of the underlying costs, as well as the effects on your workload and cashflow.
Consider limiting the offer. By setting the upper limit of how many people can redeem your offer, you play into the Fear Of Missing Out – and prevent the possibility of overload from an unforeseen influx of customers.
Sell something scaleable. Offering a 50% discount on a personal service can put you in a bind when a thousand people opt in for the deal. For a more sane (and profitable) experience, offer something that doesn't cost you much to scale. Classes or workshops, high-margin products, or maintenance plans could land you in the black or even return a profit. 
Upsell. After the discount and Groupon's 50% take, it's almost impossible for you to be making money on the sale itself. Be prepared to upsell heavily, or have a fool-proof plan to bring back discount shoppers for full-price services in the future.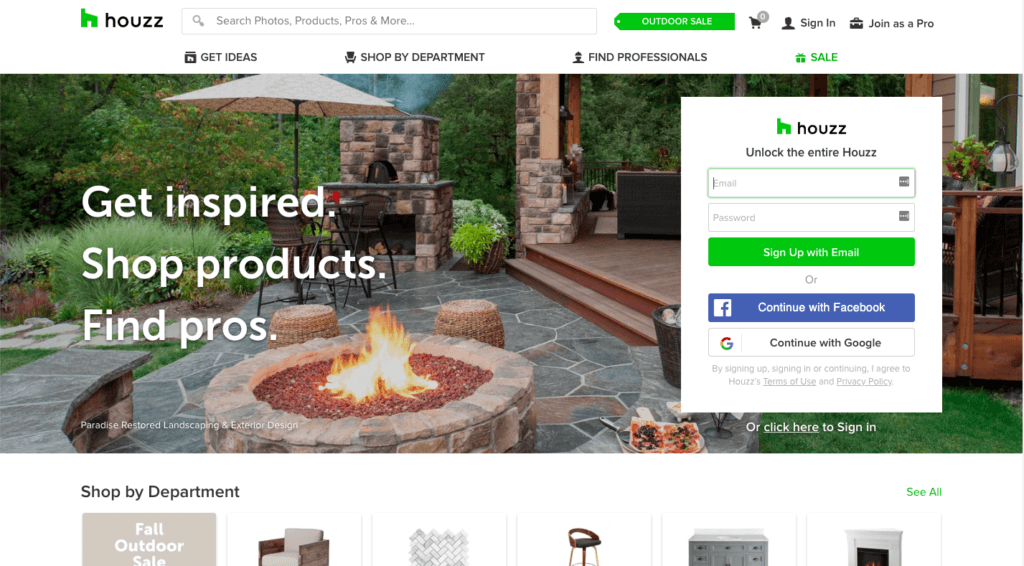 The Houzz website is most well-known as the "Pinterest for houses", but they also connect homeowners with professionals through their PRO+ program. A popular product with contractors, Houzz pushes the visual portfolio of work as a tool for attracting and converting leads.
What makes them different
Houzz doesn't charge per lead, and as such isn't a direct lead generation service. Instead, they charge a monthly price for the Pro+ program.
Since the Pro+ program is a fixed monthly charge, the cost of leads varies from business to business and from month to month. 
Have world-class photos of world-class work. All of your exposure on Houzz hinges around photos of your work. It's crucial to have professional imagery on the site. If your work doesn't photograph well, Houzz isn't for you.
Optimize your profile. Anyone can set up a Houzz profile without being a Pro+ member. These profiles are listed in the Houzz Directory, and your images show up in keyword searches. Before you start paying for the service, it's worthwhile to try a free profile and see how well it performs for you. Then add the paid advertising as a bonus, if the free profile works for you.
There are many lead websites available, and we're working to include all of the active ones. Don't see a website that should be listed here? Let us know in the comments!