Marketing in Housecall Pro
Housecall Pro does some amazing things for home service companies. It's easy to get started, but it's also easy to get lost. There are a lot of features to the software, and you might end up feeling like you could be missing something.
The Beginner's Guide to Marketing in Housecall Pro answers marketing questions I've seen asked by fellow HCP customers. Whether you've just signed up for Housecall Pro, or you just feel like you're not using it to its full potential, this guide will help you connect all the dots.
I wrote this guide for beginning and intermediate Housecall Pro users who want to make sure they've used the software to its fullest potential.
The methods in this guide should mostly be familiar to veteran Housecall Pro customers, although even they might be surprised at what they can learn.
At the end of the day, I hope you come away from this with something you can use in your marketing.
How much of this guide should you read?
This guide is written as a reference. Read as little or as much of it as you need for now, and come back when you're ready to take the next step.
Housecall Pro helps with many aspects of your business: bookkeeping, scheduling, communication… but it's also a great tool for improving your marketing and bringing in new customers.
Housecall Pro makes your life easier and helps you help your customers. But can you use that to your advantage to close more sales?
Absolutely.
Here are 3 benefits to Housecall Pro that your customers need to know:
They can book online
Some customers really appreciate being able to see your calendar and schedule their visit without talking to a human being. Your competitors probably don't offer this convenience, so make sure your customers know that it's available.
Notifications keep them in the loop
Housecall Pro's email and text notifications are a huge benefit for customers.
In 2017 spent some time reviewing negative reviews of plumbers. I found that a good portion of the complaints were about scheduling issues where the customer wasn't updated.
Let me say that again: a lot of companies got negative reviews because the customer was out of the loop.
Sending notifications is a huge competitive advantage. Make sure you show this in your marketing, and you'll be ahead of the game.
Housecall Pro keeps you organized
This is one that's easy to miss, but very important. By using a sophisticated tool to manage your customer data, scheduling, and team communication, you can be leaps and bounds ahead of your competitors.
Prospects will make decisions based on minor indicators, like whether or not you know who is their technician or when you can arrive. Use this to your advantage in your marketing.
Online Booking through your website
Giving customers the option to schedule from your website is a great way to streamline jobs. Whether it's traffic from searches or previous customers, everyone benefits with online booking.
Housecall Pro has a great article explaining how to set up your online booking in the web interface. Start there.
HCP's official online booking setup places a button in a banner at the very top of your website. If you're happy with that, great!
If you'd like to get a bit more advanced on your placement, turn on the Facebook Page Booking option and set up your links or buttons pointed to that URL.
Here's how that looks on the Direct Plumbing Solutions website: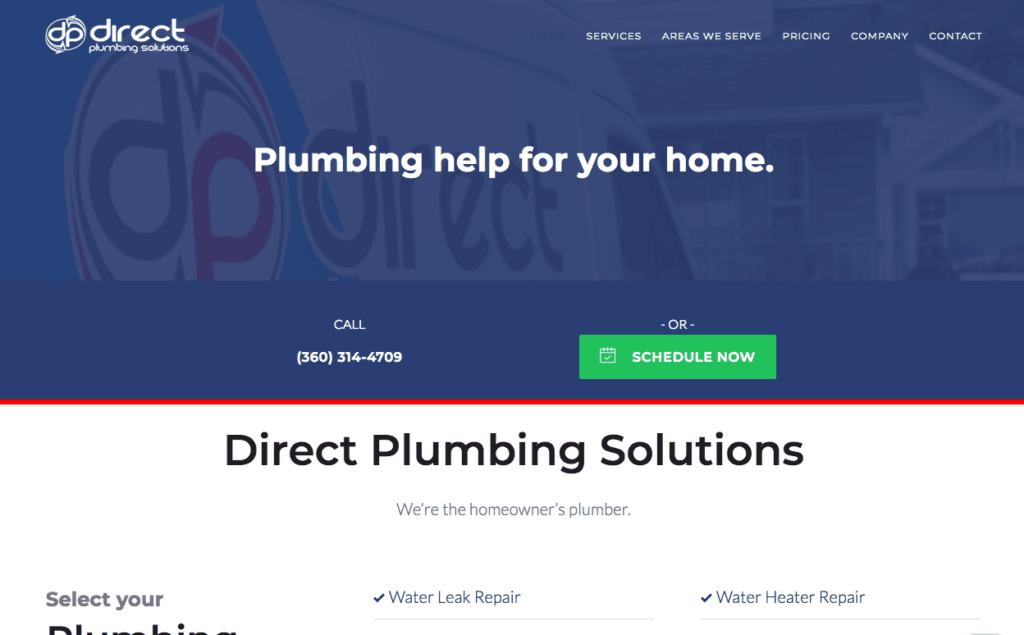 The green "Book Online" button links to the HCP online booking page. (Notice how I've given them a phone option as well.)
Online Booking Through Yelp
Through their close partnership with Yelp, Housecall Pro has a feature which allows Yelp users to book appointments with you without leaving the Yelp website or app. Here's a video that shows how Yelp online booking works:
When customers are shopping for a service, they feel like they're spending a lot of money. It's not the same as buying a book on Amazon for $19.99 and getting free returns if they don't like it. If you're like most home service companies, they'll probably have to pay you upwards of $100, and if you're a plumber like us the average visit could be closer to $500.
Nobody wants to pay $500 over the phone before you get to the job. And asking them to schedule can feel like you're asking them to commit to the cost.
Instead, let them schedule an estimate. It might be free or it you might charge a small fee.
Either way, it gives the customer a chance to meet your service technician and feel good about the job getting done before they say yes to that big price tag.
Create estimates for phone customers
When we get a customer on the phone, we're pretty confident that we've got that job. Few of our phone conversations last more than a few minutes, and we rarely do any sort of diagnostic or free advice.
We just ask them if they'd like to set up a time for us to come out and give them an estimate.
If we're confident that we know the general difficulty of the job, we'll schedule to do the estimate and the project at the same time, but we'll still tell the customer it's an estimate.
This let's them feel they're in control.
We know that if we're on site, there's a high chance we'll do the work, but giving them the option to say no increases our chance of getting on site. Win-win.
Give an estimate option in your online booking
For those who aren't calling in, you can create an estimate item in your Housecall Pro price list. This way, customers can schedule without committing to payment.
It may sound backwards, but your customers will be much more likely to agree to pay once you've met them and demonstrated that you're competent and professional.
If you need help setting this up, see the official HCP article on how to add items to your price list.
Word-of-mouth is everybody's favorite marketing strategy.
But if people aren't actually talking about your business on a daily basis, how many jobs are you really getting by word of mouth?
Unless you have reviews.
Getting reviews is a huge boost for your business. Here are a few ways you can get reviews with Housecall Pro.
Ask for reviews via email
If you're on the Modern or Advanced plans, Housecall Pro gives you access to the Email Marketing feature.
Email Marketing in Housecall Pro allows you to send transactional emails to your customers.
Housecall Pro emails:
are sent based on when a job starts or is marked finished.
are only sent for jobs, not estimates.
cannot be strictly promotional.
These restrictions rule out a lot of traditional email marketing tactics. You can't send a newsletter, a seasonal promotion, or an announcement to a list of customers.
However, there is one thing you can do with Housecall Pro's email feature: you can ask for reviews.
Here's how to set this up:
Click "My Apps" and turn on the Email Marketing app
Click "+ Email Campaign"
Select whether it should trigger before the job starts or after it completes
Write your email
Click the Rule tab
Name the email
Set the time frame
Click "Start"
I set our review email to send out 7 days after a job is completed. Recently I've seen some statistics that suggest 3-4 days may convert better.
One of my favorite features in Housecall Pro is the text notifications.
Text notifications are sent to the customer whenever a job or estimate is:
scheduled (or rescheduled)
marked OMW (On My Way)
marked Finished
When the HCP team made these texts customizable, we realized we could use them to ask for reviews via text.
Thanks for the business, Isaac! Would you do me a quick favor and write a review of your experience?
I recommend using the Finished text message like this.
Setting this up is easy.
Paste your online booking link into a URL shortener like bit.ly
Copy the shortened link
In Housecall Pro, go to Settings > Text Messages
Click the pencil to edit
Write your custom message and paste the short link
Click "Save"
That's the whole process. Now every time you (or your service techs) click the "Finish" button on a job, that customer gets a personal message from their tech asking for a review. Customers love this!
…There's one problem with this method.
As Nate Brott with Integrity Cleaning pointed out, if you're doing carpet cleaning or other another industry where you're servicing the same customer over and over again, this can get annoying really quick. And unlike the email notifications, text messages always go out on every job, as long as the customer has notifications turned on, so you can't even manually exempt them from this message.
Thankfully, Housecall Pro has several integrations for reviews, so you have other options.
If you're looking to go beyond the native Housecall Pro emails, you're in luck. Podium and NiceJob are two review apps that are already connected to Housecall Pro, and the development team reports that there are more on the way. These review companies use some combination of messages and emails to ask for customer reviews, normally with a built-in follow-up sequence and other features.
If you're not happy with any of the options above, you can get really creative and roll your own review process. I'll cover this topic in the Advanced Guide to Marketing in Housecall Pro.
As your list of customers grows, so does your opportunity to bring in more work. Repeat customers are the foundation of any sustainable local business.
Here's how Housecall Pro can help you remarket to past customers.
Housecall Pro's email settings are exclusively transactional. This means you cannot use them to market new products or services to your customers. However, there are a few elements of transaction which can help you bring back happy customers.
A maintenance or re-scheduling reminder is a courtesy email that is sent out after a certain period of time to remind customers to come back. In Housecall Pro you can set these up to send days, weeks, or months after you finish the job.
At the very least, you should send out these emails:
the day after the appointment, notifying them it was completed;
one week later, asking for a review;
one month later, checking to make sure everything is still good;
three months later, another brief check-in to see if any problems have come up.
The exact structure will change from business to business. Some customer reengagement cycles are long, as as plumbers, electricians and other trades generally do repair services and aren't needed every month. For a window washer or a carpet cleaner, you may have all of your remarketing emails set up in a 1-month time frame. Maybe you add one 90 days out to check in with inactive customers. There's no hard and fast rule here, so experiment and see what works best.
Unlike the built-in emails, HCP's postcards can be sent at any time to anyone in your customer list.
Send a one-time postcard blast
(If you haven't sent one before, read how do I make a one-time postcard blast?)
Some ways you can use one-time postcard mailers:
a special promotion
a limited-time offer
a holiday greeting
a seasonal coupon
announcing a new service
Set up a recurring postcard campaign
You can also send postcards on a per-job schedule. Learn how to do that by reading how do I set up ongoing postcard campaigns?
Just like the emails, recurring postcards can be used:
to say thank you
to ask for reviews
as a rescheduling reminder
to offer a follow-up service
The email features in Housecall Pro are very useful, as we covered in Part 2. However, if you want to send out an announcement, a newsletter, or a marketing email to your customer list, you'll have to get more creative.
It's possible to use Housecall Pro with email marketing software, but it takes some work.
Click into the Customer section.
Select the three dot icon in the upper right corner.
Select "Download customer list".
Check your email and download the attached .csv file.
Locate the data import feature in your email marketing software, and upload the .csv file from Step 4.
Now you've got an email list! You can use your email marketing software to send messages to your customers. Great, right?
Here's where it gets clunky.
If you want to continue sending email blasts, this method requires you to constantly export and merge your customer list. It's a colossal waste of time. 
That's why I'm really excited about the new Zapier integration! It's now possible to build Zaps that sync your Housecall Pro database with your email marketing software.
I hope this guide gave you some new ways to use Housecall Pro in your marketing! If you're looking for more Housecall Pro resources, check out the items below.
Need help taking it to the next level?
It can be difficult to know where to start or what to do next. That's where we come in. We work with Pros to help make the most of Housecall Pro in their business.